On Oct. 27, quarterback Joe Flacco of the Baltimore Ravens took an illegal hit, which knocked his helmet off, from Miami Dolphins linebacker, Kiko Alonso, during the second quarter. Flacco was bleeding and taken off the field where he was diagnosed with a concussion.
Kiko Alonso with a vicious hit on Joe Flacco pic.twitter.com/C5lnfP6mZ5

— uSTADIUM (@uSTADIUM) October 27, 2017
Baltimore players were outraged that Alonso was not taken out of the game but only given a penalty for unnecessary roughness.
"Was it clean? Was it dirty? It doesn't matter," Ravens linebacker C.J. Mosley said. "At the end of the day, our quarterback went down, and the whole team took it personally."
After Flacco was hit, Baltimore head coach, John Harbaugh went after Alonso.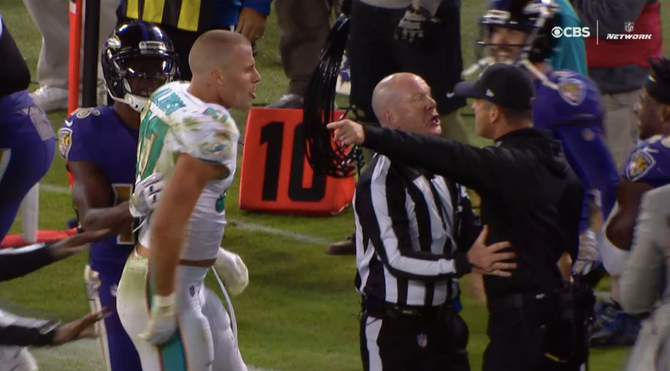 John Harbaugh yelling at Kiko Alonso. Provided by NFL/CBS
Later, Alonso defended himself, saying, "I thought he was going to slide. And then, I had to hit him, because he slid too late," Alonso said. "It was bang-bang. I don't know what else I could have done."  Adam Gase, Miami's head coach, defended Alonso for the hit by explaining that it was a tough call to make and he believes that Alonso did not intentionally try to hurt Flacco.
Quarterback Ryan Mallett, who has been both a starting and second string quarterback in his career, replaced Flacco on the field, throwing three touchdowns, leading the Ravens to victory with a final score of 40-0, their second shutout of the season as well as the Raven franchise's 200th win.
On Oct. 27, Jason La Confora of CBS Sports tweeted that Flacco is feeling better.
Joe Flacco texting with friends that he is feeling a little better. His ears took a brunt of the blow along with his head

— Jason La Canfora (@JasonLaCanfora) October 27, 2017
Hopefully Flacco will be back soon. The Ravens are at 4-4 this season despite having some trouble with their offense. However, if Mallett keeps throwing touchdowns, and Nick Boyle, the Ravens' tight end, can keep jumping over players, Baltimore may succeed in their quest for the playoffs.
Someone sign @nickboyle86 up for hurdles. #RavensFlock pic.twitter.com/nBT2bUfQsY

— Baltimore Ravens (@Ravens) October 27, 2017